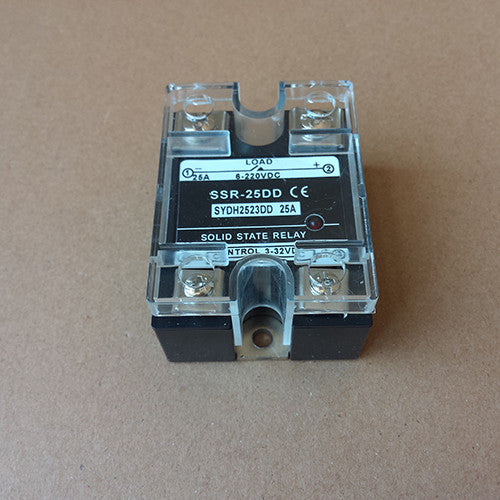 Makerparts.ca
SSR - Solid-state Relay
This item is not currently in Stock, but is available for pre-order - typically a one week delay for pre-ordered items.
---
---
SSR for Heat Bed

Get problem to heat up or worry about safty of high-power heat bed?
This Single Phase Solid State Relay is designed in accordance with IEC Standard & is ideal for various household / industrial automation process control applications, such as heating & cooling control, numerical-controlled machinery, remote-control system. RobotDigg Recommend it for Slicone Heater Pad or other heated bed of 3d printing.
Two Versions
DC
Control voltage range (Vdc) 3-32VDC(D3)
Max input current 40mA
Must operation voltage 3VDC
Must release voltage 2VDC
Load voltage range 6-220VDC
Load current 25A
Max off-state leakage current 2mA
Max on-state voltage drop 1V
LED indicator
Rugged ABS housing with removable safety cover
Dust-proof and moisture-resistant
Response time 1/2 cycle+2mSec
Heatsink is highly recommended to be used when the Load is over 5A. For Kossel, you can consider to mount it on the Aluminum Extrusion. It is a nature heatsink.
Designed to offer users maximum simplicity and easy to D.I.Y. install
AC
DC control AC Solid-state Relay
Control Voltage: 3-32 VDC
Load: 24-480 VAC 10A
50/60HZ

Heatsink for the SSR is recommended
Ramps 1.4 has a current limit for heated bed which is 9A, if you are using larger size or high-power heatbed, RDG recommend you use SSR to control it. Don't mess up with heat bed or burn your control board and ramps 1.4 board which is time n money costly.
*improper wiring or use can lead to damage or injury. Please follow proper electrical procedures when installing or get professional help to ensure it is done correctly. Makerparts is not responsible for damage due to improper installation.
---
Share this Product
---
More from this collection
//